Dino was more than just a special dog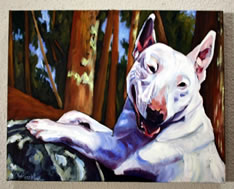 Dino was more than a super special dog. He was a clown and a companion to Richard Navone. Dino exhibited very occasional spinning and had dry eye syndrome and was treated every day with eye drops.
Early 2008 he was diagnosed as low thyroid and put on meds. Later it became apparent there was more going on so he was taken off meds and went to a heart specialist. He was then diagnosed with sever aortic stenosis. So severe that the doctor thought he had lived years beyond normal expectancy. We believe good diet and happy life helped Dino live normally.
In June of 2008 we was put on heart medication and between June and the time he died we had a number of scares. Dino would have small heart attacks and each time we prayed that he would come back. Finally on Nov 12 Dino has his final attack and died in his owner's arms.
Dino was occasionally handled by Dennis Marinac who passed away Feb 16 2005 at the age of 43 after a struggle with heart / lung disease.    I know he loved Dino very much.  Hopefully they are keeping each other laughing beyond the rainbow bridge.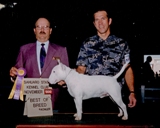 Dino finishing his Championship Title. If I remember correctly Dino was #8 Mini Bull for 1999 at a time when I didn't know we were supposed to be going for rankings.
RIP Buddy we will never forget you.