We are so proud of our BIS MBISS GOLD GCH Homebrewed Page Three Girl, RN, BN, TDI, CGC, TT-114-SBT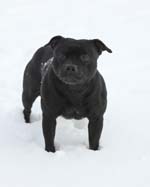 Click image to enlarge
I think Daphne is my once in a lifetime dog.   She is everything she is supposed to be and more.  I hear the words "bold, fearless and totally reliable" tossed around in our breed and this is the definition of Daphne's temperament.   Daphne also has a one in a million mix of Quality Stafford and Superstar.   She owns the arena and the crowd where ever she is.   She was away for 18 months and I likened it to my child going away to soccer camp.   I would be lying if I said it was easy.
Daphne ended the 2009 show year as #5 Stafford in the Country and #3 female, owner handled. Daphne also received numerous Awards of Merit at Specialty shows including the National Specialty 2009. She was also awarded one BIS and numerous GROUP Placements at UKC shows. Daphne was also given Top Dog honors for 2010 by the NCSBTC. Daphne was invited to Crufts 2010/2011 and Invited to Westminister 2010, 2012 and 2013. After taking a year off to have puppies Daphne hit the ground running. 

In 2011 Daphne earned a total of 159 breed points at 6 shows with Owner/ Handler Lorelei Craig. By April 2011 she was the #1 Stafford.  Daphne went to Holley Eldred in the middle of April 2011.  I knew that there was no way that Daphne would stay at #1 without the help of a handler.  Please take a moment to read this Ode to Holley to get an idea of what this was like for all parties. 
View Daphne's Pedigree
Daphne is now officially retired from showing. As of December 31, 2012, here is a breakdown of what the new Team Daphne has achieved:

7 Bests in Show
1 Reserve Best in Show
39 Group wins
85 Group Placements
2011 #1 Breed and #2 All Breed
2012 #1 All Breed and #2 Breed.

She also won Best of Breed at the following prestigious shows:

2011 Montgomery KC, Regional Specialty, Anne Katona
2011 Eukanaba AKC, Paolo Dondina
2012 Westminster KC, Peter Green
2012 SBTCA National Specialty, Chris Jacksic
MBISS GCH Homebrewed Page Three Girl, RN, BN, CGC, TDI, TT-114-SBT (aka Daphne) was already a Star when Holley agreed to take her but Holley made her a Super Star. Holley also went above and beyond my expectations by passing tests and competing in performance classes. She obtained and was awarded Canine Good Citizen, Therapy Dog Intl, American Temperament Tested TT-114-SBT, Rally Novice, and Beginner Novice Obedience.
View Daphne's Show History through July 2012
View Daphne's Show History for 2011
View Daphne's Complete Show History through 2010
Judge's Critiques
"CH HOMEBREWED PAGE THREE GIRL, B/B, This one fits the standard perfectly, strong yet feminine, short and compact, but the key word here is balance. The first thing I noticed about this bitch was her coat condition, immaculate, second to none. Good pigmentation, nice dark eye and good ear placement, muzzle deep with correct bite, excellent well boned front of ample width, well padded feet, nice spring of rib, good angulation, hard and fit in very good condition, moved around the ring covering the ground with ease, a credit to her owners and a pleasure to award her Best of Breed." UK Breed Specialist, Colin Powell (Bowtman's) April 15, 2011
"Black/Brindle, cracking head, nice ears, good straight front, plenty of bone, short back, good topline, good back end, tidy feet, good pigmentation, a very worthy Best of Breed on this day." UK Breed Specialist, Mr Paul Martin (Loyalstaff) February 6, 2011
"As soon as I saw her come into the ring I knew that this was something special, a Beautiful Black Brindle Bitch, with a cracking shaped skull, well defined cheek bumps, nice eye shape, correct rose ears, strong neck on good strong shoulders, correct straight terrier front, nice barrel of rib with nice slim waistline, correct bend to stifle, level topline, moved as sweet as a nut, a great pleasure for me to go over this fine bitch, everything about her was in good order, handled well, it gave me great pleasure to make her my BEST OF BREED." UK Breed Specialist, Mr Mansel Frayne (Anselmo) February 5, 2011
"Ch Homebrewed Page Three Girl – 2 year old black brindle. A quality bitch that would held her own anywhere in the world. The thing that first took my notice was her wonderful head showing strength yet femininity. Clean strong muzzle with good bite. Excellent deep stop, great depth through the skull. Very well placed dark round eyes. Excellent rose ears carried perfectly finishing off wonderful expression. Good muscular neck on well laid shoulders. Ample bone, good feet. Excellent ribbing in all ways possible. One minor criticism would be a coupling just a whisker longer than I would have preferred, but level topline maintained at all times. Excellent angulation in the rear, very well set on and carried tail. Excellent mover, showing required drive in profile. Very well handled to BOB today. A classy bitch indeed."- Australian Breed Specialist Mr. David Lowe (Seighford) June 21, 2009
"CRACKING BITCH OF THE FIRST ORDER AND FOR ME THE JEWEL IN THE CROWN OF THE DAY. Shown in super condition. Stunning head shape, neat rose ears, round dark well placed eyes, good cheek bumps, correct muzzle to skull ratio, perfect scissor bite with strong white teeth. Good front, ample bone, up on her pasterns, tight compact feet, full neck flowing into well angulated shoulders, ample spring of rib, good depth of brisket, well tucked up making her light in loins, well developed first and second thigh muscles with well angulated powerful back end with nice bend of stifle, moved with drive holding a good level top line going to and fro in a fit hard condition. A real pleasure to go over her, she would hold her own anywhere on this planet. Best of Breed and Best of Winners." - UK Breed Specialist Mr. Colin Davies (Mimcol) January 31, 2009
"Excellent very well balanced youngster who has true potential, excellent head with good length of skull & correct length of muzzle with no worries of breathing problems here, good reach of neck, very clean and well angulated shoulders, true straight front, very well padded feet, excellent topline, enough rib for age, excellent rear Quarters, moves well, should do some serious winning later on..." - UK Breed Specialist Mr. Dean Cund (Chelmstaff) February 2, 2008
"Homebrewed Page Three Girl, liked this little girl lot, B/Brindle, nice head for age with dark round eye, neat rose ears, clean lip, correct bite, straight front, tidy feet, level top line, correct hind quarters, coat in excellent condition, moved & handled well, pushed hard for winners bitch was happy to give her res winners bitch she has a good future." - UK Breed Specialist Mr. Harry Carter (SeaStaff) February 3, 2008